Free Shipping
Free standard shipping to the lower 48 on all orders $99+. Most orders process and ship within 1 business day. 3 Year Warranty
We provide a 3 year limited warranty on our ISUPs against manufacturer defects.

30 Day Guarantee
Our 30 day performance guarantee from the date of purchase ensures that you are 100% satisfied.


What paddle board is right for me?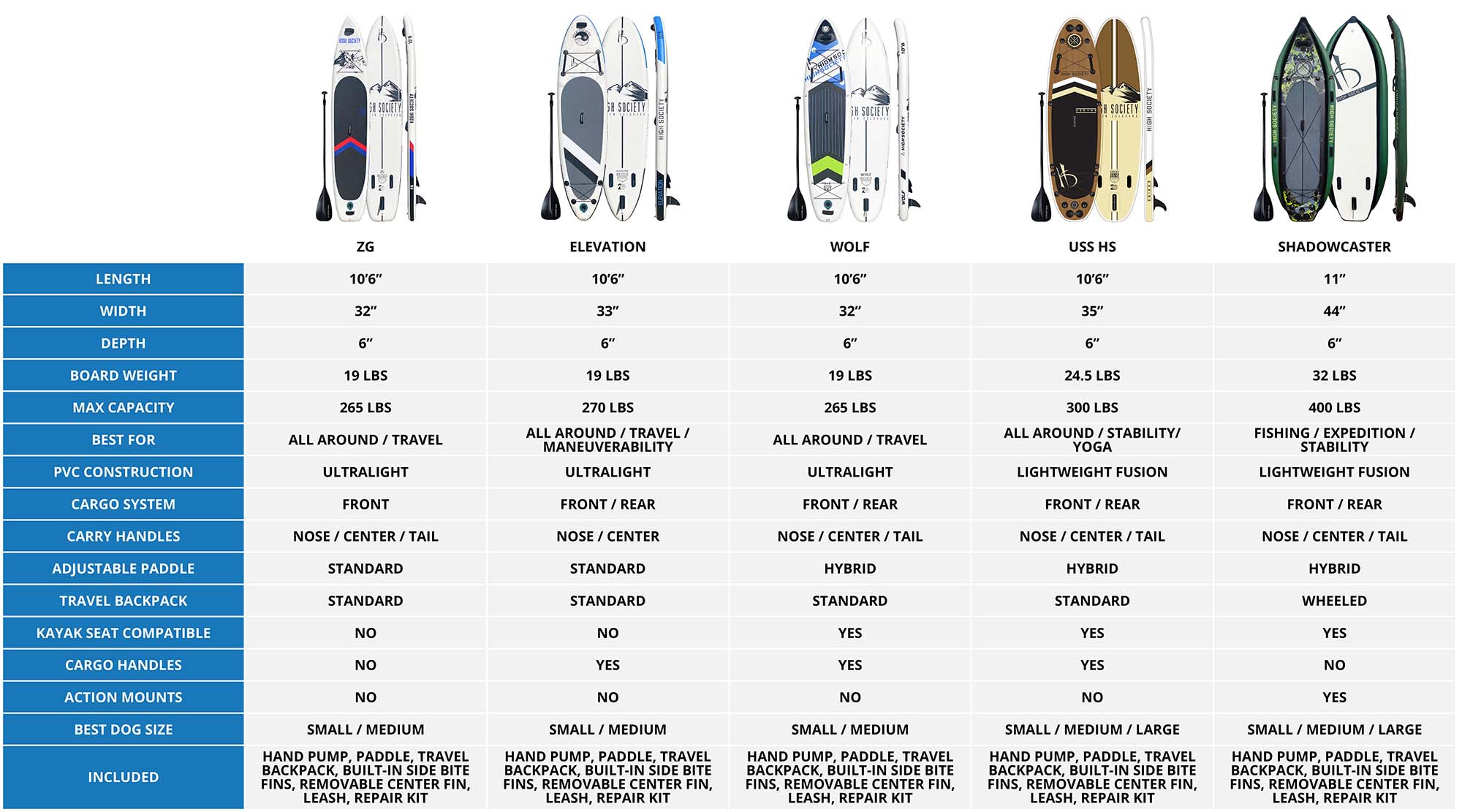 Verified High Society Customers
★★★★★

I've been using my USSHS3 almost everyday since I got it and absolutely love it! Also got the kayak seat and the carbon paddle with kayak blade which makes a great setup for lake fishing inaccessible banks. Great customer service too! Couldn't ask for a better experience, thanks y'all!

Kirby Jones

Apr 28, 2022
★★★★★

I'm a newbie SUP user, and I had no issues inflating or using this paddleboard. I use it on a nearby lake, and it tracked better than I expected and balance was good. I love the fast adjust paddle because I can go from standing to kneeing and quickly adjust the paddle.

Elizabeth Lujan

Jul 15, 2022
★★★★★

Finally took our boards out on their maiden voyage last week. A bit nervous because the only inflatable SUP we've ever used was terribly unstable. Decided to give this one a try. We had such a good time! I didn't want to get off the water. I was afraid to stand up, but my son was practically doing cartwheels on his. LOL! I'll get the hang of it. Set up was easy. Break down requires some work, but I imagine it will get easier over time. The backpack bag it comes with is so slick. I fully recommend this board. I'd buy it again in a heartbeat.

Nikole

Sep 04, 2022
★★★★★

My wife has had an Isup for a couple years and I always kayak with her because I am bigger, 6'2" 250. I've used several paddle boards with a 250 limit and they are incredibly unsteady. I was looking at them for a while and then I saw the deal for USSHS3. I bought it and within 5 days it was on my door step and took the maiden voyage today. It was great. Highly recommend the pro electric pump, inflated both boards in less than 10 minutes. Very impressed.

Morsee

Jul 30, 2022
★★★★★

I can't say enough good things about this board. We have a 90 lbs Husky so I was a little nervous if it was up to the challenge and not feel like paddling a tank around the lake. It does fantastic!

Kyle

May 30, 2022